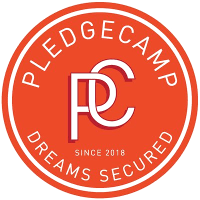 Pledgecamp IEO Review
IEO is ended

: 22 Aug — 23 Aug
IEO price
$ 0.0025
OKB 0.0009
ATH ROI since IEO
USD: 3.31x  (231.5%)
ICO is ended

: 18 Feb — 19 Mar
ATH ROI since ICO
USD: 0.83x  (-17.1%)
Min/Max personal Cap
50$ / 50000$
Pledgecamp ICO was conducted from 18 Feb to 19 Mar by the project team from United States.
ETH, BTC currencies were accepted.
At the $ 0.00829 ATH price on 7 Nov 2019 investors were able to sell this position with 0.83x ROI in USD.
The Pledgecamp token is now trading at 0.77x in USD from the ICO price.
ICO token price was $ 0.01.
Token economics
Investment info
Short review
Additional links
About ICO Pledgecamp
Pledgecamp (PLG) will be the project seventh token sale on OK Jumpstart, and will be launched on Aug 22, 2019 (CEST, UTC+2). The first subscription session will open at 06:00 (CEST, UTC+2), and the second session will open at 07:00 (CEST, UTC+2). The rules are as follows:
1. Subscription Details
Sale Price: 1 PLG = $ 0.0025
Exchange Rate: to be confirmed by the OKB price on launch day
First Session:
Individual Minimum Subscription Amount: 200,000 PLG
Individual Cap: 400,000 PLG
Session Supply: 400,000,000 PLG
Over-subscription Limit: 800,000,000 PLG
Second Session:
Individual Minimum Subscription Amount: 200,000 PLG
Individual Cap: 1,600,000 PLG
Session Supply: 400,000,000 PLG
Over-subscription Limit: N/A
3. Listing
· PLG/USDK Market: 10:00 Aug 22, 2019 (CEST, UTC+2)
· PLG/USDT Market: 10:00 Aug 23, 2019 (CEST, UTC+2)