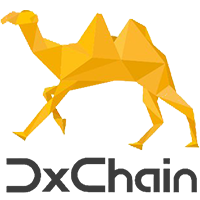 Rank: 327
Token: Ethereum
Data Service
DxChain ICO Review
Crowdsale is ended: 3 Aug — 8 Aug 2018
ICO price
$ 0.0014
Ƀ 2.16e-7
Ξ 0.00000296
ATH ROI since ICO
USD: 2.06x  (105.9%)
BTC: 2.06x  (106.1%)
ETH: 1.89x  (89.3%)
Interest
Cryptorank interest rate
Hype rate: HIGH
Risk rate: VERY HIGH
Interest score: NEGATIVE
Token economics
Sold On Private/Pre-sale
$ 17,500,000
Private/Pre-sale price
$ 0.0009
Ξ 0.00000166
Max bonus: 130%
Lockup: 25% release before listing, further every 3 months
ROI since Private/Pre-sale
Token allocation
Total supply:
100,000,000,000
For sale:
22,300,000,000
(22.30%)
Private/Pre-sale:
19,440,000,000
(19.44%)
Public sale:
2,860,000,000
(2.86%)
Investment info
Accepting
ETH
Whitelist
Yes
Min/Max personal Cap
0.5/2 Ether
Know Your Customer (KYC)
Yes
Can't participate
Canada, China, Cuba, New Zealand, United States
Additional links
About ICO DxChain
DxChain is developing a decentralized big data and machine learning network.

The project is based on the premise that data is valuable and data creators should be able to own and benefit from their own data. The team aims to tackle major big data issues such as privacy, ownership, and security while supporting business intelligence and machine learning applications.

With DxChain's decentralized data exchange platform, users would be able to own and control their own data, and securely trade and analyze data. Utilizing blockchain technology featuring multi-nodes and distributed storage, the costs of data retrieval and storage would also be reduced significantly.